EABP FORUM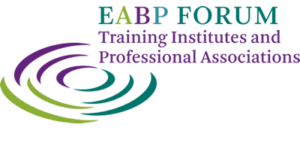 "The FORUM provides opportunities for beneficial and enriching exchange between Training Institutes and Professional Associations. It gives mutual support to members and ensures that high standards are maintained.
Through coming together in this way, FORUM members work to promote the future of body psychotherapy across Europe."
Alessandro Fanuli:  FORUM Chair
---
The EABP FORUM of Body Psychotherapy Organizations has been established to accredit (and re-accredit) Body Psychotherapy Training Institutes according to the EABP Training Standards, and to be home for all EABP organisational members. Accreditation and re-accreditation is done by a process of Self-Assessment and Mutual Recognition and then is endorsed by the Board of Directors.
Graduates of accredited EABP Training Institutes have a streamlined process to become individual members of the EABP.
The FORUM meets regularly in a city hosted by one of the Training Institutes. Members have lively exchanges of theory, practice and techniques and for many years the FORUM has been the centre of discussions about the "common ground" of body psychotherapy.
In order to join the FORUM a Training Institute or Professional Association first must join the EABP as an organizational member. Once completed the organization can then apply for FORUM membership. They must attend two meetings to present their organization and meet other FORUM members. The FORUM then votes on acceptance of FORUM Membership.
Accreditation takes place over a longer period. Two members from accredited Training Institutes in the FORUM, coming from different body psychotherapy backgrounds, visit the Training Institute over a period of two days. They write a report which is exchanged with the Training Institute and discussed in a meeting of the FORUM. The accreditation is then voted on.
The FORUM elects a representative who is a fully voting member of the Board.
A written report of the activities of the FORUM (about the training organisations assessed and the process of assessment) is presented to each General Assembly.
List of training institutes accredited by the FORUM >
 EABP Training Standards
The FORUM works together with the EABP Training Standards Committee to ensure that the training standards are up-to-date and relevant.
To contact the FORUM
Joint FORUM and COUNCIL meeting, Montpellier, 5-7 April 2019 Host: École Biodynamique